Entertainment that Educates!
Show results for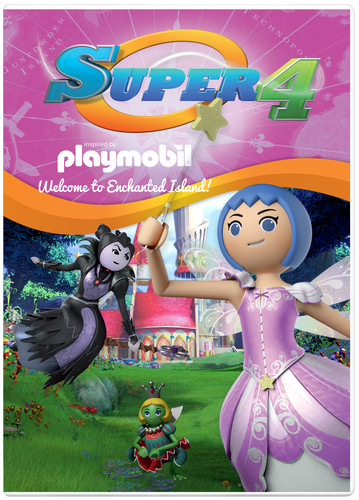 Description
Super 4: Welcome to Enchanted Island! on DVD
Inspired by the world of Playmobil® toys, embark on a series of adventures with the Super 4 as they travel throughout the wider Playmobil® universes. Whether it be a sci-fi futuristic world, a magical fairy world, a world of pirates, or a world of medieval knights, the adventures are never ending! Welcome to Enchanted Island, an island covered with a mysterious enchanted forest, which is home to every form of magical creature you could ever imagine - fairies, mischievous boy sprites, unicorns, sirens, ancient tree spirits, and magic wishing wells. Visitors to Enchanted Isle must beware - for nothing is ever quite what it seems, and dreams and reality quickly become one. At the center of the forest is the palace of the capricious Fairy Queen, who is in a constant temper due to being turned into a frog by a talented young fairy who overdid herself and, in an attempt to grant the ultimate favor to the queen by making her "even more pretty", she cast a spell that in fact gave her the head of a frog! Unfortunately, that talented young fairy is our friend, Twinkle. Twinkle has great potential as a fairy but she must learn to master her wand and it's magic.